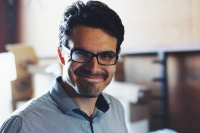 Tyler
Art has always been a defining influence in my life. I grew up taking art classes from great local artists, many of my family members are artists, and in school I was labeled as the "class artist."

Though I'm sure art is not this way for everyone, I've found the artist lifestyle to be a tricky balancing act. On one hand, I really need lots of time alone to perfect my craft. On the other I long to live in the world - to meet new people, to create meaningful relationships, to learn new skills, and see new places.
I want to approach life with eyes wide open, constantly searching for the beauty however fleeting it may be. If I'm somehow able to put a bit of that down on canvas, that's great, and if not, the experience was worth it all the same!
Inquire