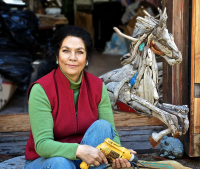 Tina
Tina grew up in the beauty of Colorado, with breath taking rugged mountains and wildlife serving as a peaceful and inspirational backdrop to her life. From an early age, she acquired a love for art, especially drawing. Soon after high school, she began to enter her graphics and t-shirt designs into art shows across the west, and the journey of the life of an artist began.
She's always been fascinated with sculpture and yearned to make a 3-dimensional pieces. Her "aha" moment came while walking the shores of Flathead Lake. She nearly stumbled over a half-buried root that happened to look exactly like a horse head profile. This ignited her imagination and she quickly gathered the root and more driftwood to take back to her studio. Slowly, her first piece "Rain Maker" came to life. One sculpture led to another and she loved working with the driftwood pieces and found the possibilities endless. She often adds a dash of old automobile parts - hoods and fenders from the 1950s and 60's for a splash of color.
I think you'll find her pieces expressive and unique!
Inquire