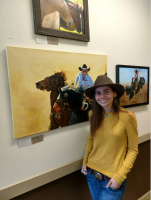 Tara
Tara was born in St. Petersburg, Florida on March 6, 1990. At a young age she held a strong compassion for animals and the American West.
When asked what I wanted to be when she grew up, she answered "An Artist and a Cowgirl."

Drawing came to her naturally and she drew the wild animals she craved to be near in the North American wilderness, a far cry from her suburban upbringing. In 2013, she received her Bachelor of Fine Arts, focusing in Painting, at the University of South Florida in Tampa.

After graduation, Tara returned to her hometown determined to further gain more hands on experience, where upon she met sculptor, Mark Aeling, and painter, Carrie Jadus. She applied for a one-year term position working at their fine art gallery, Soft Water Studios, and worked as an artist assistant to Carrie Jadus. The skills, business knowledge, and experience she has gained working for both professional artists has only strengthened her confidence in her abilities to continue advancing within the art world.

Tara's work has been featured in several publications including Southwest Art Magazine's: "21 Under 31 Young Artists to Watch in 2018" and Cowboys and Indians "Best of the West."
From 2016 to 2020 she was a part of the Pinellas Park Arts Village and had a studio where she worked at 5663 Studios among other artists.

Following her dream to live out West, Tara relocated to Bozeman, Montana where she lives and paints. Tara is open to commission work!

Inquire