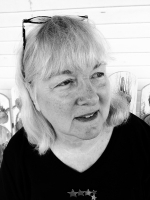 Sari
Sari is noted for her large-scale, colorful, and stylized watercolor paintings.
Born in Los Angeles, she grew up in a variety of small California towns. She showed an early interest in the arts, which her mother encouraged. After a meandering and uneventful early education she entered college with majors in both art and English at El Camino College after which she continued her studies at UCLA and Otis-Parsons.
Steeped in the lore of the Native American culture, Sari has allowed her own life philosophy to become entwined with theirs and has spent years representing the Native American people, their dwelling places and artifacts in her paintings. At her home in California, Sari keeps an organic garden and raises the flowers that she paints. Her flower paintings are a major focus today as she continues to explore new subjects and expand her horizons.
Inquire