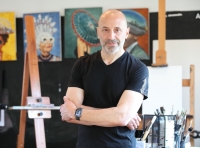 Paul
Born in Boise, Idaho as the son of a symphony conductor and a concert pianist (father and mother, respectively), Paul opted for the visual arts instead. At the young age of fifteen, Paul began attending figurative painting courses at Carnegie Mellon University in Pittsburgh.
Exhibits include a one-person show in Chicago's Bella Vista Gallery and group exhibits throughout Chicago. Paul's recent installation in Chicago's downtown River East district featured five large-scale (16ft high) portraits of Chicagoans "wearing" the city's iconic landmarks as symbols of pride.
Working mainly in the medium of oils, Brourman's subjects include portraiture, landscapes, western subjects related to Montana's rich history.
His works are a product of classical training in contemporary realism with hints of impressionistic brushwork. His influences include John Singer-Sargent, Sorolla, Richard Schmid and David Leffel among others.
For 21 years (1994-2015), Brourman worked from his Bucktown home studio. Today, he toggles between his home studios in both Evanston, IL and Big Sky, Montana, and shows across all three cities.
Education:
• Vitruvian Studio, Chicago, David Jamieson, Drawing, Figurative 2012
• Florence Academy of Art, Florence, Italy: Portrait, Figurative Studies in oil Summer, 2003
• The Art Institute of Chicago, Marion Kryczka, Figurative Painting in Oil, 1994-2001
• The Pennsylvania State University, Bachelor of Arts Degree 1982-1986
• Carnegie Mellon University, Joseph Fiedler 1980-1981, Painting and Drawing
Exhibits:
• The Wilson Hotel, Big Sky, MT – Art for Everyone Exhibit, 2020
• Big Sky Artisans Festival, 2020
• Noyes Cultural Center, Evanston, IL 2016-17, Studio tenant - Group Exhibit
• Evanston Art Center - Evanston Made, Evanston, IL 2017
• Evanston Art Center Orrington school auction/fundraiser, Evanston, IL 2015
• Malovat Gallery, Chicago, 2003 Group show, 4 works in oil
• Bella Vista Gallery, Caught in the Moment, Chicago, 2002: 18 works in a one-person show
• Lookinglass, Chicago, 2001 Group show, 5 works in oil
Commissions:
• Allegheny General Hospital, Pittsburgh, PA, Official portrait, Jon Brillman, M.D., Chairman Emeritus, Department of Neurology 2012
Workshops:
Suchitra Bhosle - Sentient Academy, 2020
David Gray, Los Angeles Academy of Figurative Arts, 2018
Steven Assael, Palette & Chisel, Portrait studies, Chicago, 2016
James Swanson, LaGrange, IL 2016-2020
David Leffel, Palette & Chisel, Portrait studies, Chicago, 2010
Andy Conklin, Private Instruction, Chicago, 2009
Inquire