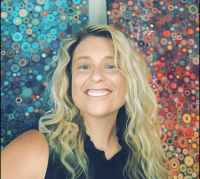 Kelly
Raised in Eastern Montana, along the Badlands of Makoshika State Park, and now living close to the Beartooths in Billings, Kelly loves to explore the wilderness and witness the beauty of nature. This inspiration along with her love of contemporary aesthetics is the driving force behind her artwork which focuses on exploring contrasting colors with contemporary scenes. With a background including a MS in Arts Administration/Finance, a BA in Business Administration and BS in Registered Nursing and Fine Arts, and an AS in Radiologic Sciences degrees, Kelly uses her colorful background to draw upon to pursue her passion for the arts.

Kelly has had the wonderful privilege to have her pieces exhibited throughout the Unites States and is honored to be in numerous private collections. Currently, Kelly enjoys working in both the art and healthcare fields. Her most favorite title is that of Mom to her two wonderful children. She also has a blast hanging out with her husband Brian and an extensive, wildly fun family, which includes friends near and far.

Contact me about Kelly's latest works of quillings, sculptures, and paintings. Her works will also be on display at ZACC in Missoula in 2023 and the Paris Gibson Square Museum in 2024, along with group exhibitions throughout the United States.

Inquire