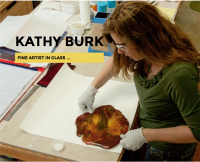 Kathy
Kathy studied fine art throughout high school and college. She received her Bachelor of Fine Art from University of Texas and practiced as a licensed Interior Designer both commercially and residentially.
Kathy worked as a systems furniture space planner for a Herman Miller dealership and quickly realized that she wanted to get out from behind the computer and move into a sales role. Her husband's career took them to Houston where Kathy acquired a Small Business Development position for a Steelcase dealership. Her responsibilities included acquiring, designing and implementing the installation of large commercial projects.
Her business was started in a suburb of the Dallas/Fort Worth area. Kathy's small business consisted of custom design and manufacturing of steel furniture and lighting products. As a general contractor she specialized in faux finishing and custom textures for residential and commercial spaces. Kathy always found time to pursue her mosaic artwork by participating in at least two art shows a year.
"As an artist and designer my largest influence comes from my father's ranch located in the Beaverhead National Forest. Its history and geological make-up fascinate me. The dynamic meadow, traveling wildlife and dense national forest have generated many artistic inspirations. I examine the small details of the past implements and instruments left behind by the original settler and observe the dynamic landscapes to the smallest wildflower. I recognize the color contrast that occurs naturally during the different seasons and study the underlying geology. I slow down to examine the details of Montana and enjoy replicating the depth, texture and color, vibrantly with glass."
Today, from her studio in Bozeman, MT, Kathy creates natural mosaics and abstract designs that represent the textures, movement and vibrant color found in Montana's geology and natural environment. Kathy creates mosaic collages, designs and manufactures custom lighting and constructs decorative and functional kiln glass. Her artwork can be found in various galleries across Montana.
Inquire