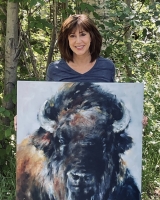 Kallie
Born and raised in north central Montana, Kallie loved to draw and paint as a child and decided at an early age that she would one day pursue a career in art. In the early days, Kallie was mostly self-taught, but later enrolled in the art program at Montana State University in Bozeman and is thankful for her studies and degree.
After years in the education field, Kallie has turned her focus onto creating her own drawings and paintings and is loving being a full-time artist.

Influenced by many years of painting strictly in watercolor, Kallie now works primarily in oils. Her oil paintings are impressionistic and vibrant. Her painterly landscapes are rich and striking depictions of scenic Montana.
Kallie has most recently been creating charcoal drawings and oil paintings inspired by native Montana wildlife. She is inspired by painting the animals she sees on a regular basis around her home which overlooks the beautiful Helena, Montana valley.
Inquire