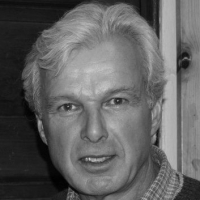 Jim
Jim's work is a unique reflection of his creative talents and the issues that our modern society balances between preservation and development. Originally from Detroit, Michigan, Jim had an interest in art from very early on. He attended the Art School of the Society of Arts and Crafts, an affiliate fo the Detroit Institute of Arts. In 1972, Jim left the Detroit area in a VW bug and vowed to put down roots in the most beautiful spot he found. He wasn't kidding and proved so when that place ended up being along the Soda Butte Creek on Yellowstone Park's northeast border. Thus began his love affair with the region, particularly Yellowstone Park.
Jim studied art and architecture at Montana State University. His work comes from the heart and reflects his true desire to protect the landscape and wildlife in the greater Yellowstone area. In addition to expressing his desires through his artwork, has also participated in activities to prevent development and industry from settling near Yellowstone. He and his wife, Heidi, were awarded the 1997 National Park's Conservation Association's "Marjorie Stoneman Douglass" award for citizen activism.
"My work responds to issues that are important to me as a member of this mountain ecosystem. The large animals that represent the "western mystique" seem constantly in conflict with the economic interests of this region. My work pays homage to these wild inhabitants who are manipulated at teh whim of those interests and yet, somehow survive. My hope is that the viewer is a participant in the image making process and engages the works as one might engage a poem."
Inquire