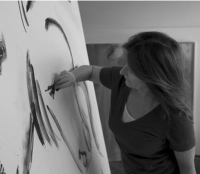 Donna B
Donna B was born in NY in a small town north of Manhattan. Her natural inclination for horses appeared at a young age and with great sensitivity and intuition she would watch whatever horses she could find in her rural area, drawing and studying their form and anatomy with a youthful intensity.
"Horses have always been for me a source of healing, energy and life. I feel closely aligned with the ancient cave paintings; minimalist, primal, intimate. I experience that connection when I am with or paint horses. That pure and intuitive bliss is what I hope to share in my work."
Now in focused memory and imagination she re-creates her equine vision. Mixing mediums and materials in unique and uncommon ways, and often using no brushes or tools to create her inked horses. On those works she drips and directs proprietary mixtures of acrylics, water-based inks and pigments in alchemical spontaneity, her passion made visible.
Donna's personal artistic blend and signature clean, fresh style creates art that is modern in structure yet deeply intimate, appealing to both the horse lover and formal art collector. With uncanny simplicity and a style unlike any other her works evoke universal qualities of power and vulnerability, compassion, and forward movement.
Her most recent endeavors have expanded into performance of her art, into "Live Painting", during which she creates original works at events, galas and fundraisers using her uniquely evolved process. Most notably she has created at Ferdinand's Ball during Kentucky Derby week, in Ohio at the New Albany Classic, and in Scottsdale in support of Family Promise AZ. Always in conjunction with a Charity Partner, this evolution of her professional career is a highly satisfying and expanding role.
Over the years Donna has been profiled in Riding Magazine; Horse Times Magazine of Cairo, Egypt; Fine Magazine, CA, and numerous other publications, including "Ex Arte Equinus", a book of International Equine Fine Art. Invited to exhibit in the Art Idaho Biennial Juried Show at the Art Museum of Eastern Idaho, an abstractive equine piece was awarded second place. Her paintings have graced wine labels in support of the American Mustang. She also had the most unique experience of painting with a retired racehorse, whose work also raises funds for Thoroughbreds off the track. This feature was carried on WGN in Chicago, the Baltimore Sun, the Huffington Post, MSN and Cavallo Magazine in Italy. Details and links to all of these accomplishments can be found in detail in the Press section.
Largely self-taught Donna has studied privately with such artists as international painter Robert Dash, contemporary abstractionist Christine Raymond, and modern metal sculpturist Sue Latta. She refined her sculptural technique at the Boise Art Museum. A number of these pieces have been placed in permanent collections. Her sculptures are as unique and visionary as her paintings.
Her collectors say it best: "Your art inspires thought." "Your art draws me in for a much deeper experience; every time I look I see more." "Your art has it all - motion and emotion." "Your art is full of vitality, energy; on the inside moving out." "We are not 'horse people' ~ but you make us want to be." "Your art expresses what horse-ness is!"
Donna's works are shown throughout the country and collected around the world. Whether a private home, corporate or hospitality placement, her paintings complement their surroundings as well as carry an emotional atmosphere always in keeping with her client's aesthetic.
Her has been collected by The Fairmont Hotel in Scottsdale, AZ, St Luke's Hospital in Ketchum, ID, Idaho First Bank in Boise, ID, and the headquarters of Bel Fuse Ltd in Kowloon, Hong Kong.
"Creating my urban equine art is a bit of a bareback ride; I combine mediums in new and regenerative ways that evoke movement, energy and life. What gives my work its edge is a deep personal familiarity with the physical horse…and an expansive sense that the movement is bigger than what you see." ~ DB
Inquire