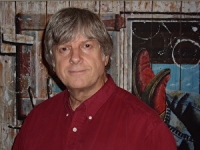 Chuck

Chuck was born in Massachusetts and raised as an "Air Force brat." Riding with his two younger sisters in the back seat of their station wagon on cross-country trips to Dad's new duty stations, he savored their stops at cafes, gas stations, tourist trap shops, and classic motels. With each transfer and new set of friends, he was the young "director" who, inspired by Saturday matinees, passed out cap guns and other props for cowboy and Indian games to all the neighborhood kids.

He never said, "I'm going to be an artist when I grow up", he simply just fell into it. God given talent, he supposes? As a typical teenager, he was drawn more to the music scene at that time than art, and was an avid fan of the Beach Boys, Beatles, and other music, and I occasionally skipped school to observe life first hand. Upon graduation from high school, Chuck joined the Navy to explore even more of the world. Post military life found him in Denver as a draftsman, still searching for what he wanted to be when he grew up. Enrolled at Metropolitan State College (now a University) and desperate to graduate, he needed a quick elective and chose a drawing course. His professor was tough and challenged him. Chuck was up for the challenge, which transferred into getting hooked on art! Chuck immediately changed his major to fine art, but after graduation, reality set in. Convinced that only other people made money as fine artists, he opted for more schooling in graphic design, graduated with honors from the Colorado Institute of Art, and went into commercial design in Denver and Los Angeles. After a very successful stint in graphinc design, Chuck decided it was time to pursue a career in fine art, so he quit the day job and dedicated himself to working full-time creating fine art pieces. And galleries started noticing and picking up Chuck's work. A new direction in his career war born.
About the same time, he and his wife, Carol, began taking roadtrips across America, rekindling the romance of the road from his younger days: the wide-open spaces, the intense sunlight after a summer thunderstorm, the rusty windmills, gas pumps, and pickup trucks, old Coke machines, neon signs, worn out toys, and weather-beaten murals and barns. Along the backroads of the West and on Route 66, he often lingered in small towns or at fairs and rodeos to capture those images in his mind (and his camera) as subject matter for his work.
Inquire