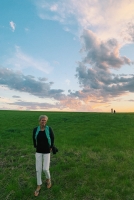 Adair
A painter of people, landscapes and animals, and abstracts, Adair is directly inspired by the culture and surroundings of all the places she's lived. Raised in the suburbs of Chicago and encouraged by her mother, renowned artist Fay Peck, she studied art at Boston University and earned her MFA from Brooklyn College. In the late 1980s and early '90s Peck lived in the East Village of Manhattan and her portraits embraced the aspiring artists of the downtown scene, along with the homeless residents of Alphabet City. Adair captured the era's spirit of freedom and decay in her many prints, paintings, and collages. In 1991, she was commissioned to recreate these scenes as a backdrop for the production of '"Fallen Angel," for the legendary La Mama Theatre.

Whether she's depicting gritty street scenes or breathtaking mountain vistas, Adair's art reflects her personal observations and reactions to the world around her. Like the German Expressionists and Mexican Folk Artists who continue to influence her work, she attempts to capture her own visceral experience of the world. She has worked as a multi-media printmaker, sculptor, and painter.

Among the variety of styles and subjects Adair has depicted are papier-mache animals inspired by Montana's beautiful wilderness and large scale figure paintings incorporating the Chine-Colle printmaking technique. In her most recent work, encaustic painting allows her to continue her explorations with subject and materials as she mixes pigment, coffee grounds, and paper into beeswax. She then paints, melts, and scrapes layers of color and texture to reveal her latest subjects entwined with her own personal story.

Over the years, Adair has lived and worked in the suburbs, the city, the beach, and the mountains. You can see the inspiring places and expressive characters she has encountered, as they live throughout her work. She now lives in Bozeman, Montana where she and her husband are raising their three daughters.
Inquire