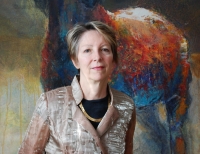 Susan
Susan's art career started with studies in painting, ceramics and business in the late 1970's. From there, she launched a successful career in industrial design into the early 1990's, and at that point decided she wanted to teach as well as launch her own career in the art industry.
Susan has always been fascinated with the horse as subject matter, in terms of how they demonstrate excitement, power, sadness, curiousness, fear, anger, frustration, kindness, pain
and tolerance, much like their human counterpart.
"I am grateful for all the experiences I've had with the many horses I've known. They teach me to have the spirit that they have. They teach me how to love and be loved."
Throughout Susan's art career, she's exhibited in many solo and group shows and many collections and admirers arond the country have purchased her amazing depictions of these marvelous creatures for their collections.
With her intense connection to horses combined with her amazing talent to create valued artistic paintings, it comes as no surprise that Susan was chosen as the 2014 Kentucky Derby Artist, culminating her love of horses with one of the most appreciated and honored horse races in the country.
I am honored to be the first gallery in the Rocky Mountain region to be representing Susan's work.
Artist's Statement:
Spontaneity and intuition are the two most important concepts I try to convey in my art. The spontaneous underpainting gives way to an image that appears intuitively. The nature of paint is messy and I like to acknowledge that. This is a reminder that in nature, order comes from chaos.
While
our mind-dominated world changes to a more feeling world, we struggle for balance. Every painting is an opportunity for me to reconnect with a more intuitive part of myself. Every viewer is given this opportunity to connect with their feelings as well. The people in my life help me to express pain and pleasure. Then in turn, I put that on a canvas to share with others. We are a world of people that want to connect by our very nature.
I
choose to paint nature because I am a part of nature. We humans are much like animals. The main difference is that animals have no fear of the future. They live their lives with great awareness and intuition.
~ Susan Easton Burns
Inquire